Does Help Hair Shake reverse gray hair? Results from Dr Cooleys office in Charlotte, North Carolina.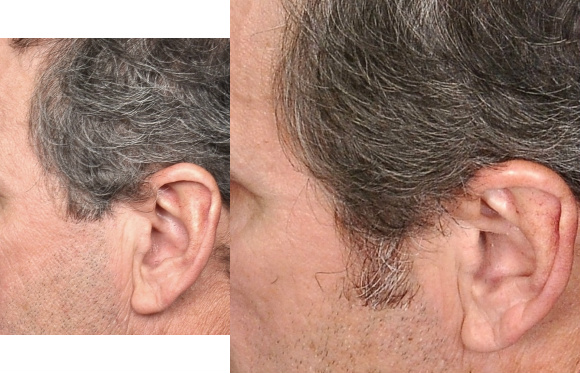 Gray Hair Reversal with Help Hair Shake
Before and after with improved darker color using Help Hair Shake. Pictures courtesy of Dr Jerry Cooley.
Dr Jerry Cooley was our first Help Hair clinics to utilize our Help Hair Shake and our Low Anabolic Profile protocols in their hair transplant and dermatology practice over 5 years ago. They were the first clinic to reproduce our AFR (Accelerated Follicular Restoration) results. AFR shortens the dormancy after the hair transplant. Typcially hair transplants start to regrow at 5-6 months and full growth at 11-14 months. With Help Hair Shake regrowth starts at 6-8 weeks and full growth at 5-6 months. In fact Dr Cooley has shown us results of patients growing in at full growth at 4 months. One patient in particular was to be married in 4 months and wanted the hair transplant to be fully grown and we have a copy of his picture in front of a wedding cake with his lovely bride with a full head of hair.
Dr Cooley is a real innovator. He attended our Help Hair Dinner in the Bahamas ISHRS meeting getting certified in proper usage of the shake along with his staff . Ailene, his surgical supervisor and Lollie has been in contact with me multiple times about hair loss patients and has an excellent understanding on the intracacies of treating hair loss using the shake. Their clinic fully understands the SHAPIRO Chart and the Low Anabolic Profile. In fact Dr Cooley has the Help Hair Shake and Help Hair Vitamins as part of his pre-op protocols.
With his encouragement we lectured in Instanbul to about 70 Worldwide hair transplant doctors , many who are using the product today including Dr Melike Kulahci who hosted the event at her Transmed Hair Transplant clinic and Dr Jen Martinick from Australia.
Some of the interesting feedback we have received from Dr Jerry Cooleys office over the past 5 years lead to improvement of our protocols such as:
1)Heating the shake will degrade the protein
2) too much biotin or addtional hair vitamins will retard growth
3)you need to add to 1 scoop of shake enough liquid- 12-16 ounces of water or milk etc to make sure that the shake is not too sweet.
5)Antacids, H2 blockers, and proton pump inhibitors will slow the absorption of the shake.
And most recently;
6)Help Hair shake has been reported by their clinic to reverse gray hair- see recent pictures. These pictures are over a period of 8-9 months.
The feedback that we have received from their clinic is invaluable and we hope to continue to be updated by all our Help Hair clinics to keep improving the efficacy of the product.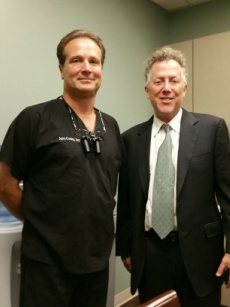 Dr
Jerry Cooley with Dr Larry Shapiro at Carolina Dermatology
Today we stopped by Dr Jerry Cooley's office in Charlotte North Carolina on our way from the NCDA convention in Asheville, NC. July 16, 2015