Meet our Newest Help Hair Shake Doctor from Apopka, Florida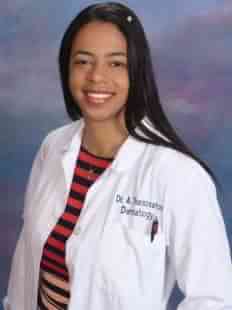 Theo Medical Dermatology, founded by Dr. Athena Theodosatos provides medical and aesthetic skin care services to patients of all ages.
Dr. Theo, a native of Tampa, Fl, earned her bachelor's degree in Biology and her Master's degree in Public Health with a focus on Infectious Diseases and Tropical Health from The University of South Florida. Dr. Theo graduated from The University of Medicine and Dentistry of New Jersey School of Osteopathic Medicine and completed a 3 year residency in family medicine at Florida Hospital South and then completed an additional 3 years of dermatology training in Tampa, Florida.
Dr. Theo has been published in Dermatologic Clinics of North America and also published in the Journal of the American Osteopathic College of Dermatology. She co-authored a book chapter in a geriatric dermatology handbook on vascular disorders in the elderly and co-authored a chapter on Occupational Dermatology in a Preventive Dermatology textbook.
In addition to private practice, Dr. Theo treats patients with skin diseases in long term care settings through out central Florida and provides in service training for nurses and staff at over 30 nursing homes and assisted living facilities. She also precepts for nurse practitioner students from the University of South Florida and lectures on geriatric dermatology for the geriatric fellows at Florida hospital South. She holds staff privileges at Florida Hospital Apopka.
Dr. Theo's unique background in family medicine, dermatology and public health enable her to provide comprehensive and compassionate care to all her patients.
To find a hair clinic at ShakeMD.com and visit for a consultation to review your hair loss situation.
Let Help Hair Shake enhance your:

1)PRP or Microneedling

2)Low Laser Therapy

3)Hair Restorative Procedure

4)Oral Therapies

To find a Help Hair Clinic call us !
.