Meet our Newest Help Hair Shake Doctor from Vienna, Virginia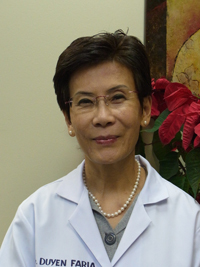 Dr. Duyen Faria, DO F.A.A.D. F.A.O.C.D.
2236C Gallows Rd, Fl 2 Vienna, VA22182 703-827-7008
Dr. Duyen Faria is a graduate of The Texas College of Osteopathic Medicine. In addition to her medical degree, Dr. Faria holds a Master's degree in Pharmacology from the University of Texas in Austin. Her residency experience includes: Family Practice, Internal Medicine at Wayne State University, followed by Dermatology residency at Henry Ford Hospital, Detroit, Michigan. There, she joined the dermatology teaching staff for 6 years and held a leadership role in clinical research and co-chaired the Wound Healing Center. Over the years, her focus has diversified to be more holistic with integration of herbs, nutrition, vitamin, food, laser and cosmetic procedures. She is board certified by The American Academy of Dermatology (AAD) and American Osteopathic College of Dermatology (AOCD). Dr. Faria started EXCEL Dermatology in 1999.
Our Help Hair clinics retail our Help Hair products. To find a local clinic go to ShakeMD.com to purchase Help Hair Shake and to visit for a consultation to review your hair loss situation.
Let Help Hair Shake enhance your:
1)PRP or Microneedling
2)Low Level Laser Therapy
3)Hair Transplant Procedure
4)Topical or Oral Therapies
To find a local Help Hair Clinic call us today!